FULL SERVICE
POST PRODUCTION
Mad Old Nut (MON) is a progressive, technology focused post-production, editorial suite and equipment rental facility with offices in Hollywood, Beverly Hills and New York City.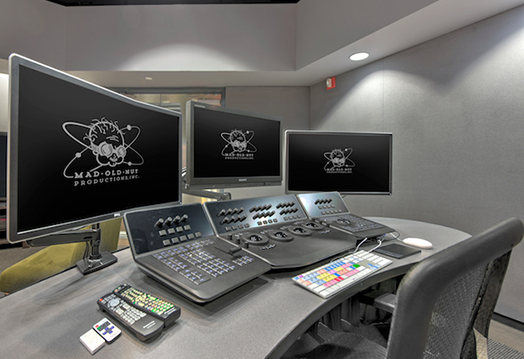 WE'RE
MAD

Founded in 2007 by film and television producer Todd Ulman, Mad Old Nut provides three things: innovative solutions that expand your creative freedom, top notch service that eliminates headaches, and incredible value for your production dollar. Our clients include major movie and television studios, independent production companies, digital content providers, industrial producers -- and also film students and struggling artists as well. We are proud to serve the creative community through our work on episodic television, feature films, commercial projects and digital media. And we're mad about staying on the bleeding edge of technology to create magic for your production.
LEADERSHIP TEAM
TODD ULMAN

Founder, Chairman & CEO, Head of Sales

DR. ANDREW GOODNEY, PHD

CHIEF TECHNOLOGY OFFICER

ROB SMITH

DIRECTOR OF OPERATIONS
Todd Ulman is the founder, Chairman & CEO and creative force behind Mad Old Nut.
Todd started his life in showbiz by getting coffee and running errands on a little TV show called Friends. Todd quickly rose through the ranks to become Associate Producer of Everwood, making him one of the youngest producers at Warner Brothers Television in the aughts.
Like many producers of the era, Todd was constantly frustrated by the technology required for the then-burgeoning digital workflows. But unlike most, Todd was a former Systems Administrator for the Massachusetts Institute of Technology (MIT).
Using his experience as a computer-geek and a producer, Todd founded Mad Old Nut with a clear vision -- help creative people create magic through the innovative use of technology.
Todd is a proud college dropout from the program in Theater and Computer Science at Northeastern University.
Dr. Andrew Goodney began consulting for Mad Old Nut in 2011 and joined the company as Chief Technology Officer in 2015.
Andrew's entertainment industry career began with an internship working for Tomlinson Holman (of THX fame). After graduation he worked at Lowry Digital Images before joining Cinesite in 2002 as a digital imaging engineer. At Cinesite, and later Laser Pacific, he worked with pioneering film, television and VFX technologies. In 2008 Dr. Goodney returned to the academic world to pursue a Ph.D. in computer science. Since graduating he has published over a dozen journal articles and three patent applications.
Dr. Goodney holds a B.S. and M.S. in electrical engineering and a Ph.D. in computer science from the University of Southern California (USC). He is a Senior Lecturer of Computer Science with USC's Viterbi School of Engineering.
Rob has over twenty years experience solving challenging technical problems and managing post operations.
Rob started his career as a production assistant at Hallmark Hall of Fame and quickly became a post-production coordinator there. He moved to LaserPacfic Media Corporation where he was promoted to Vice President of Operations — and where he first met Todd Ulman.
Rob is a Las Vegas native who holds a Bachelor of Fine Arts in Performing Arts Design and Management from CalARTS.
GIVING BACK
Mad Old Nut is proud to give back to and support our community.
Vancouver Food Bank GVFB provides assistance to approximately 10,000 individuals monthly across Vancouver, Burnaby, New Westminster, and the North Shore.The GVFB distributed 7.1 million pounds of food last year. Because of our size, scale and unique position in the local food system, we have significantly greater buying power than can be achieved at the grocery store, and can double each dollar donated, maximizing the impact of our donors' generous contributions. 
MORE GIVING BACK >